Mindful Explorers is a nature-inspired membership program for kids and their grown-ups
Our program is geared towards elementary school-aged children – although it can be adapted up or down.
This is especially valuable for families with mixed ages at home or for classrooms.
"Mindful Explorers" is one of many programs offered by "Mindful Kindful YOUniversity". Mindful Kindful Youniversity also offers school and community programs, professional development, mini-retreats, and more, throughout San Luis Obispo County, CA. >>> WEBSITE LINK <<<
FOR CHILDREN:
Our Mindful Explorers program nurtures children's social-emotional development for growing wise minds, compassionate hearts, and peaceful relationships at home, in school, and in life! Join our unique, self-paced journey and discover your inner Superpowers for resilience, happiness, and well-being. The program consists of a series of self-paced learning modules Each module has a different nature and social-emotional learning theme. A module is like a box full of goodies including a main lesson and extended activities to explore ~ stories, relaxation practices, creative art, and movement or outdoor adventures that the whole family can enjoy together!
There's no prep for you – it's ready to go!
There are also reflection questions, downloadable cards, or other materials to print so you can take your practices and projects offline.
Through our approach to "Pathways to Nature Connectedness", we also hope our children will become inspired stewards and caretakers for protecting Mother Earth, including wildlife. There's no wellbeing without nature's wellbeing. It's a reciprocal relationship and web. All of our themes draw from the mysteries, metaphors, and magic of nature to help learn about the nature of ourselves, as well as our connections and relationships to others and the world around us. We practice the skills to be mindful, kindful, and peaceful.
"After attending MKY Explorer program's virtual open house, I knew it was just the thing to supplement our online school regimen. While we feel so "zoomed out," the virtual program, which was so clearly thoughtfully curated and put together, is actually very well served and honored by the online format. The exercises are wonderfully guided with thoughtful images, videos, and music, which aid tremendously in engaging with the exercises. We are thrilled to be taking part in a program that allows us to pace ourselves, and have the freedom to return to lessons as needed, or desired." ~ Parent, Annabelle Ioannides Healy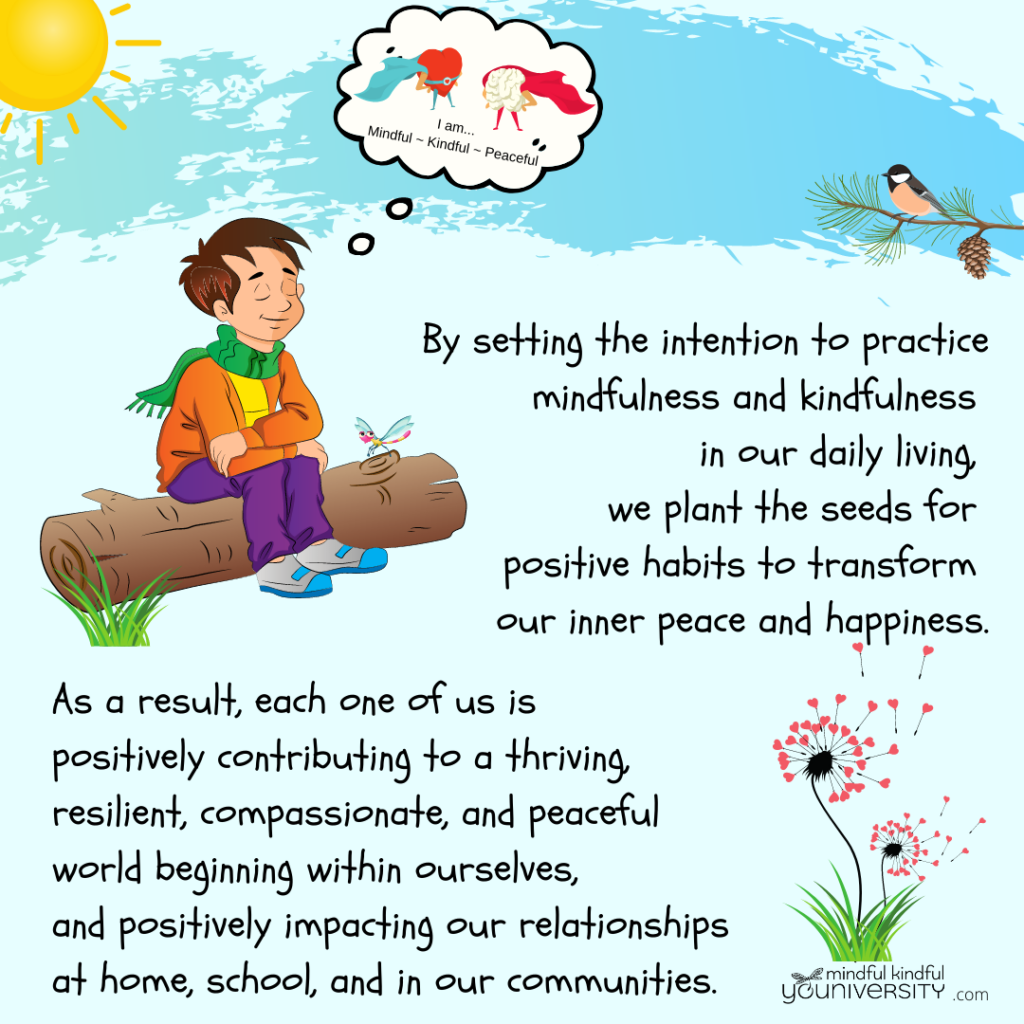 FOR ADULTS, TOO:
The membership also includes resources for parents and educators for personal growth and understanding while supporting their children with these essential life skills.
Our grown-up members receive Newsletters and Supplemental Notes and Resource Notes to go along with the ready-made lessons, stories, and activities (no planning). Families, or classrooms, can learn, practice, and grow skillfully, together. Some parents also take the course to learn for themselves, and in so doing, make a positive impact by leading and modeling these skills in their families!
"I just wanted you to know my 5yo son and I have been enjoying Mindful Kindful Youniversity. This last Saturday I had an extreme panic attack/ emotional and mental breakdown. It was kind of an out of body experience actually and really scared me because I was triggered and reacted to a stressful situation/ argument with my husband screaming and crying and just completely out of control… but to get back into control and calm down I started doing the rainbow exercise, looking for different colors of the rainbow in the room I was in and it helped to anchor me at the time. I was so glad I remembered and implemented a mindful kindful tool to help with my anxiety etc. it really helped a lot. Thank you." ~ Parent, Haley Bingham
More About Mindful Explorers
Our nature-based mindfulness and social emotional program integrates the science of Mindfulness, Eco (Nature) Psychology, Positive Psychology, and Cognitive Behavioral Psychology, to empower Explorers with emotional intelligence life skills, or "Sm'Heart skills", that will support your child's mental health and well-being, now, and throughout life. This unique program offers an essential education for responding more skillfully to life in the 21st Century, including this pandemic!
Learn, practice, and grow skillfully with us:
Emotional intelligence is the ability to understand and manage your emotions, and to understand and respond effectively to the emotions of others. These are internal and interpersonal skills that can be acquired and improved with practice. According to CASEL, the Collaborative for Academic, Social, and Emotional Learning, social and emotional learning is the process through which children and adults acquire and effectively apply the knowledge, attitudes, and skills necessary to:
understand and manage emotions,
set and achieve positive goals,
feel and show empathy for others,
establish and maintain positive relationships,
and make responsible decisions.
Emotions themselves aren't bad or problematic.
Emotions only become problematic when you don't know how to work with them and get stuck in the unhelpful ways of thinking and behaving. In our Explorers program we:
Explore how to navigate, work with, and decrease the experience and impact of difficult or negative emotions (such as stress, anxiety, overwhelm, depression, anger). You can learn that experiences don't have to overwhelm you and how to remain calm and centered through life's ups and downs. This capacity to handle the stresses of day-to-day life increases resilience!
At the same time, explore how to increase experiences of positive emotions (resulting in a greater relationship with self and others). "Sm'heart" skills (mind + heart) involves the understanding, awareness, and management of emotions, aligned with your positive core values and intentions when making decisions, problem solving, or creating, to achieve the very best version of YOU! With practice, mindfulness can help you learn to pause, without reacting in an automatic or habitual way, in order to create the space to allow the thinking mind to align with the heart. A moment of mindful awareness presents an opportunity for choosing how to move forward with presence, with compassion, clarity, curiosity, and with heart, by aligning with your core values. The outcome is aligned with who you want to BE in this world! In so doing, you make a positive impact on the world around you.
In so doing, emotional intelligence grows as we increase resilience, happiness, and well-being which will help children flourish!
A relationship with nature can help tackle the crisis in mental health.
The relationship between people and the rest of nature, "Nature Connectedness", is grounded in scientific study, and accepted internationally. Research evidence shows that improved nature connectedness benefits human wellbeing. And it's a reciprocal relationship. Those who are more connected to nature exhibit more pro-environmental and conservation behaviors!
These are the pathways to nature connectedness, activities in nature that involve:
Senses
Emotion
Beauty
Meaning
Compassion
"Intellect alone is not enough to guide us. To shape the future of the twenty-first century we need something else. Without peace and happiness we cannot take care of ourselves; we cannot take care of other species and we cannot take care of the world. That is why it is important for us to live in such a way that every moment we are there deeply with our true presence, always alive and nourishing the insight of Interbeing." ~ Thich Nhat Hanh
Access all learning modules released to date. The skills and practices learned can be used now and through every stage of life!
Learning is accessible to anyone, anytime, anywhere with internet access.
Online recorded lessons, mindfulness and movement practices, stories, and more -- Simple, fun, educational, ready-made, bite-sized (each under 10 minutes);
Offline creative projects, practices, and suggested activities to integrate and process lessons and practices at a deeper level.
Go at your own pace! Learn as you go. If life gets busy, that's okay - access the modules when it fits in with your life.
All modules remain accessible for the duration of your membership.
Explorers can do these lessons independently, but they will get far more out of it when a grown-up does it with them by having meaningful conversations, supporting one another! Why not grow skillfully together!?
Many of the recordings will be presented as though I am sitting there talking to your child to make it feel personal and to help encourage the sense of familiarity and connectedness as an anchor.
Feel free to contact me if you have any questions! Request a behind the scenes tour or check out our NEW Sampler Module!
Teachers - contact me directly to ask about teacher discounts!
Your Mindfulness Coach and Guide,
~ Dee DiGioia (di JOY uh)
Please let me know if you have any questions or need help with something.
805-270-5523
Learn more "About Dee DiGioia"
CLICK THE BUTTON BELOW TO JOIN!!!